January 12 - February 26
Wade Sellers: 25 Artists
Artists: Eileen Blyth, Jarid Lyfe Brown, Michaela Pilar Brown, James Busby, Michael Cassidy, Stephen Chesley, Thomas Crouch, Jeff Donovan, Mary Gilkerson, Bonnie Goldberg, Michael Krajewski, Matthew Kramer, Whitney LeJeune, Susan Lenz, Dre Lopez, Laurie McIntosh, John Monteith, Lucas Sams, Alex Smith, Kirkland Smith, Laura Spong, Anna Redwine, Cedric Umoja, Mike Williams & David Yaghjian
For this project, filmmaker Sellers interviewed 25 Columbia artists whose work he admires, asking them why they create, what influences and motivates them, how they work, etc. Each interview took place with the artists standing in front of a neutral, white backdrop and was conducted informally and in spontaneous fashion. The interviews were edited to 60 seconds or less to create a series of vignettes. All interviews will be shown simultaneous on 25 mounted monitors in an inventive, gallery-wide installation. The goal was, Sellers says, "to get to the heart of why the artists do what they do and who they are as artists." In the process, "the viewer is able to explore the creative process."
May 18 - July 2
Osamu Kobayashi: MOUND
An exhibition of Brooklyn, N.Y.-based, Columbia native Osamu Kobayashi's paintings. These non-objective paintings focused on the abstract; Rather than give one definition for a painting, Osamu let the observer come up with their own interpretation of each massive canvas of composed color.
September 28 - November 5
The 701 CCA South Carolina Biennial 2017 Part I
Featuring: Lucy Bailey (Irmo), Kristy Bishop (Charleston), Frol Boundin (Columbia), Lauren Greenwald (Columbia), Jason Kendall (Columbia), Peter Lenzo (Columbia), Craig Lynberg (Charleston), Carey Morton (Clemson), Cliffton Peacock (Charleston), Laura Spong (Columbia), Tom Stanley (Rock Hill), David Yaghjian (Columbia).
The 701 CCA South Carolina Biennial 2017 is a survey exhibition of work by contemporary South Carolina artists. The Biennial is an initiative of 701 CCA and was first held in 2011. The goals of the Biennial exhibition are to provide a venue to showcase recent work reflecting local, regional and national trends and issues influencing contemporary artists living and working in South Carolina and to increase awareness and appreciation of the artistic contributions and accomplishments of the state's visual artists. The project draws on the breadth of the visual arts community by providing a multi-media juried statewide exhibition opportunity every two years.
The 24 artists included in the Biennial 2017 were selected from a record 146 submissions by South Carolina artists. The jury panel making the selections consisted of Lisa Dent, David Houston and Lori Kornegay. Dent is director of resources & award programs at Creative Capital in New York City and a former curator and gallery owner. Houston is the director of the Bo Bartlett Center at Columbus State University in Georgia and the former head of visual arts at the South Carolina Arts Commission. Kornegay is a Columbia native and the curator of art at the South Carolina State Museum.
"The jurors had the difficult task of selecting only 24 artists from a record number of submissions of 146," said 701 CCA board chair Wim Roefs. "They spent considerable time looking at images provided by the artists and discussing the work before they came to their final selection. They managed to put together a strong group of artists that shows the excellent contemporary art produced currently in South Carolina."
November 15 - December 24
The 701 CCA South Carolina Biennial 2017 Part II
Featuring: Will Barnes (Columbia), Michaela Pilar Brown (Columbia), Leah Mulligan Cabinum (Clover), Emily Furr (Rock Hill), Donna Cooper Hurt (Charleston), Luis Jamarillo (Greenville), Edward Rice (North Augusta), Kristi Ryba (Charleston), Christina Teruel (Myrtle Beach), Katie Walker (Greenville), Logan Woodle (Conway), Valeria Zimany (Clemson)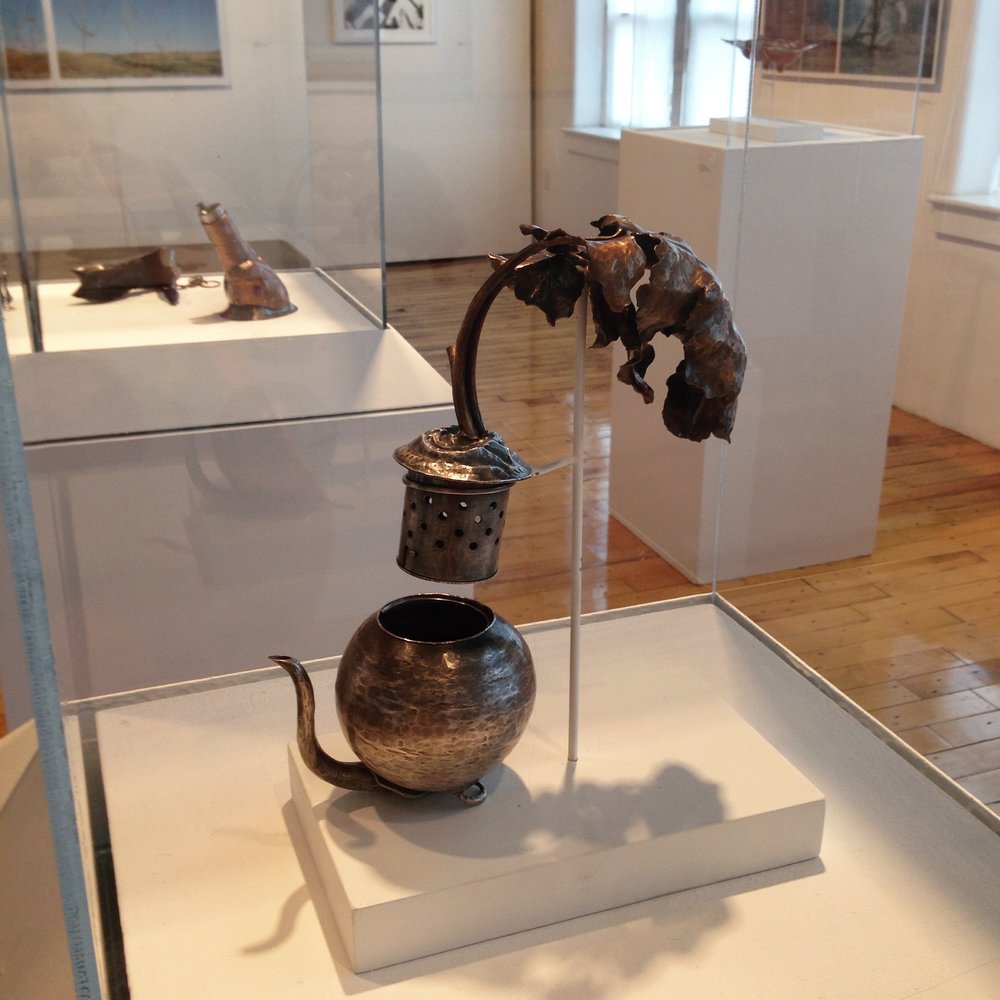 January 29
MAKING IT WORK: ARTISTS IN CONVERSATIONS
For the 25 Artists exhibition, filmmaker Sellers interviewed 25 Columbia artists whose work he admires, asking them why they create, what influences and motivates them, how they work, etc. The interviews were edited to 60 seconds or less to create a series of vignettes.. The goal was, Sellers says, "to get to the heart of why the artists do what they do and who they are as artists." In the process, "the viewer is able to explore the creative process." To explore that process and other aspects of being an artist in Columbia further, 701 CCA organized three Making It Work sessions. During the sessions, two or three artists had conversations with each other about their work, process and career.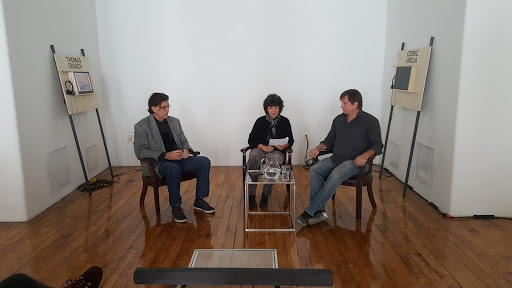 April 1 & 2
Columbia Open Studios
701 CCA Columbia Open Studios is an annual, self-led, driving tour of artists' working studios spans the City of Columbia and Richland and Lexington Counties, showcasing the Midlands' talented visual art community.
April 16
Jeff Sumerel – Gallery Talk and Special Screening: To My Great Chagrin
Conceptual artist and film producer Jeff Sumerel presented a series of short film vignettes, running simultaneously and continuously, some of them incorporated in site-specific installations. The exhibition also included the Columbia premiere of his film "incidental: a brief dissection of personal awareness," a non-conventional, humorous documentation of impromptu scenarios.
May 21
Meeting of the Minds
An informational meeting for prospective volunteers at 701 CCA.
August 12
Young Artists Festival
Young Arts Festival is an end of summer festival that celebrates young artists, ages 6 to 17, in our community. The festival also showcases the works created by summer camp programs in Columbia. This celebration of art includes art making activities, games, performances, an art exhibition, and more.
YOUTH SUMMER ART WORKSHOPS
Each summer, 701 Center for Contemporary Art offers Youth Summer Art Workshops. Children and teens ages 6 to 17 have the opportunity to get hands-on experience in the arts, creating artwork under the guidance of local artists and art instructors. Students are able to work in several art making activities! Classes are held at 701 CCA's Artist-in-Residence.
June 5 - 9
Mixing it up with Mixed Media
This class challenged students to experiment with a variety of media including drawing, painting, printmaking, assemblage and more. From traditional materials such as paints to recycled materials, students used lines, shapes, colors, texture and repetition to create unique multi-layered, mixed media art.
June 12 - 16
Jazzy Jewelry
This jewelry-making session was designed to take students through the process of designing, creating, marketing and selling their jewelry. Students were introduced to a variety of materials to create, as the session's name implies, jazzy bracelets, earrings and necklaces.
June 19 - 23
Kinetic Sculpture
In this class every student created a hanging, interactive sculpture. Each design was unique and developed intuitively. Students used sustainable materials such as pliable reed, and manipulate them into hybrid forms. The initial form was bound together with string. In the final stage, vibrant natural papers were placed to define the negative space.
June 26 - 30
The Wild & Colorful World of Marbling I
Students discovered a number of marbling techniques from Suminagashi to chalk pastel marbling. By exploring color, imaginary creatures and organic shapes, students became immersed in a creative and engaging environment full of whimsy and delight. Each day, students learned a new technique and produce small artworks. They also completed a larger scale abstract artwork.
July 10 - 14
The Wild & Colorful World of Marbling II
Students discovered a number of marbling techniques from Suminagashi to chalk pastel marbling. By exploring color, imaginary creatures and organic shapes, students became immersed in a creative and engaging environment full of whimsy and delight. Each day, students learned a new technique and produce small artworks. They also completed a larger scale abstract artwork.
July 17-21
Transforming Plastic into Wearable Art
Students created wearable art from random small plastic objects. The instructor encouraged students to think about jewelry in new ways and to experiment with unlikely and unexpected materials that can be used to create unique wearable art. Students were encouraged collect old plastic toys, bottle caps and other small plastic parts found on household items and bring them to the workshop. Students transformed these objects through a creative adventure in making brooches and other wearable art.
July 24 - 28
Making Faces: The Art of Mask Making
Students examined masks of various cultures and of different functions to use as references in creating their own one-of-a-kind masks. Students were encouraged to come with ideas, images, and/or sketches to help get started with their mask design. Traditional clay hand-building techniques such as slab, coil construction and pinching were used to create masks. Students added details using yarn, raffia, beads, glass, and other materials.
July 21 - August 4
Swirling Skies, Abstracted Figures and Fantastic Felines
Well-known artworks by modern masters and contemporary artists were used to inspire students to create and/or expand their visual vocabulary. Students studied well-known works of art and were introduced to principles of design and elements of art. Students were challenged to create work that embodies movement, texture, pattern. Students created their own original designs mixing different media, styles, elements and principles.
MAY 8 - JUNE 3
YVETTE CUMMINGS
Yvette Cummings Arendt of Conway, SC was our 2016 701 CCA Prize winner. Her current body of work presents a moment of transition between experiences of recalled child abuse and the dynamics of motherhood. She explores the relationships her daughters have with one another and the complicated path of youth, beauty, and femininity. The struggles of adolescence include navigating the dynamics of family, sibling rivalry, and transitions into adulthood. She depicts her daughters during these times in relation to one another, and herself.