January 17 - March 3
Janet orselli: Re:visions
re:Visions presented work from interdisciplinary artist Janet Orselli of Tryon, N.C. Orselli combines and assembles found objects and surrounding spaces transforming their meaning and the viewers' experience. Each object speaks of what it once was, its unique history, yet at the same time it becomes something new and unexpected. Orselli's work requests a slower pace, referring back to a time when objects were cherished and made with care.
One hour prior to the opening reception, Orselli gave an artist talk in the form of storytelling from the point of view of her objects.
Janet Orselli, a Columbia native, was the 701 CCA Artist in Residence from October 2018 through January 2019. The exhibition included work created during her residency.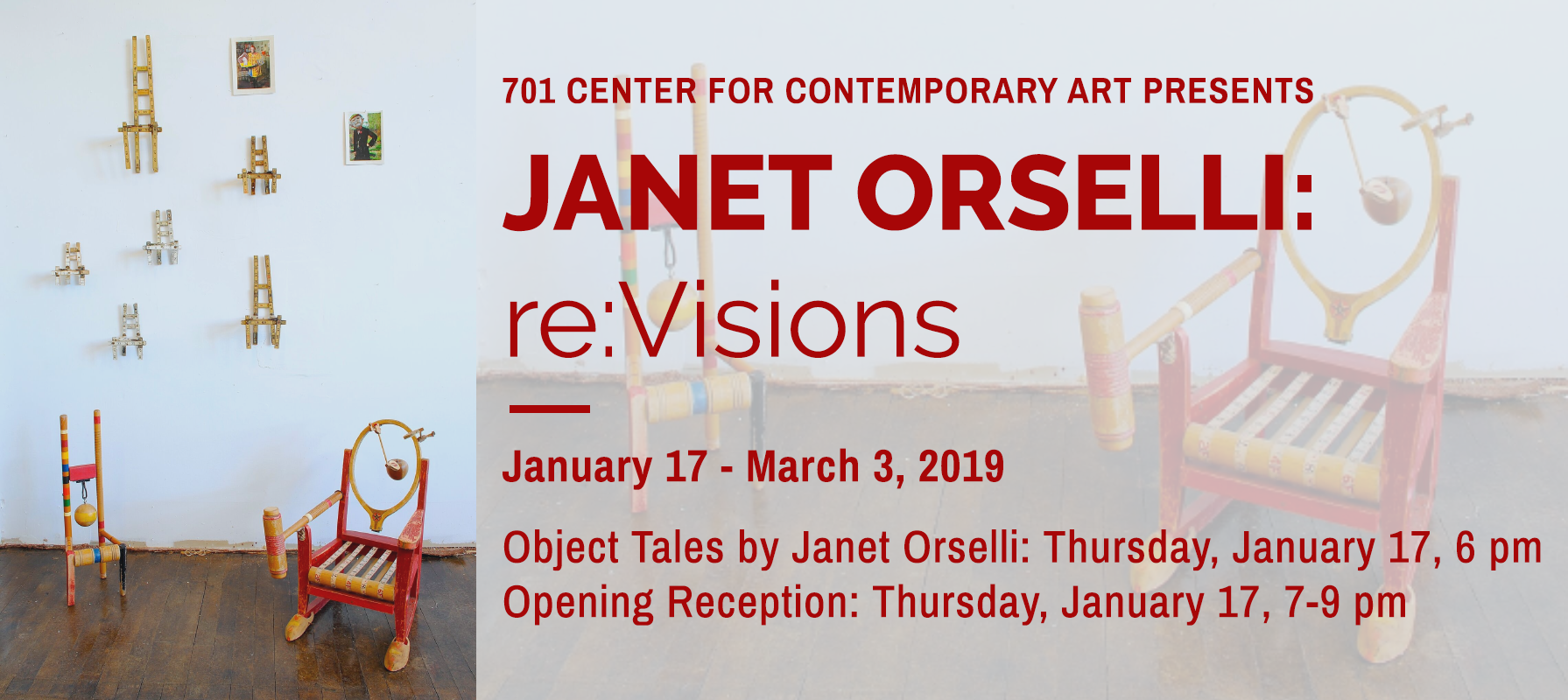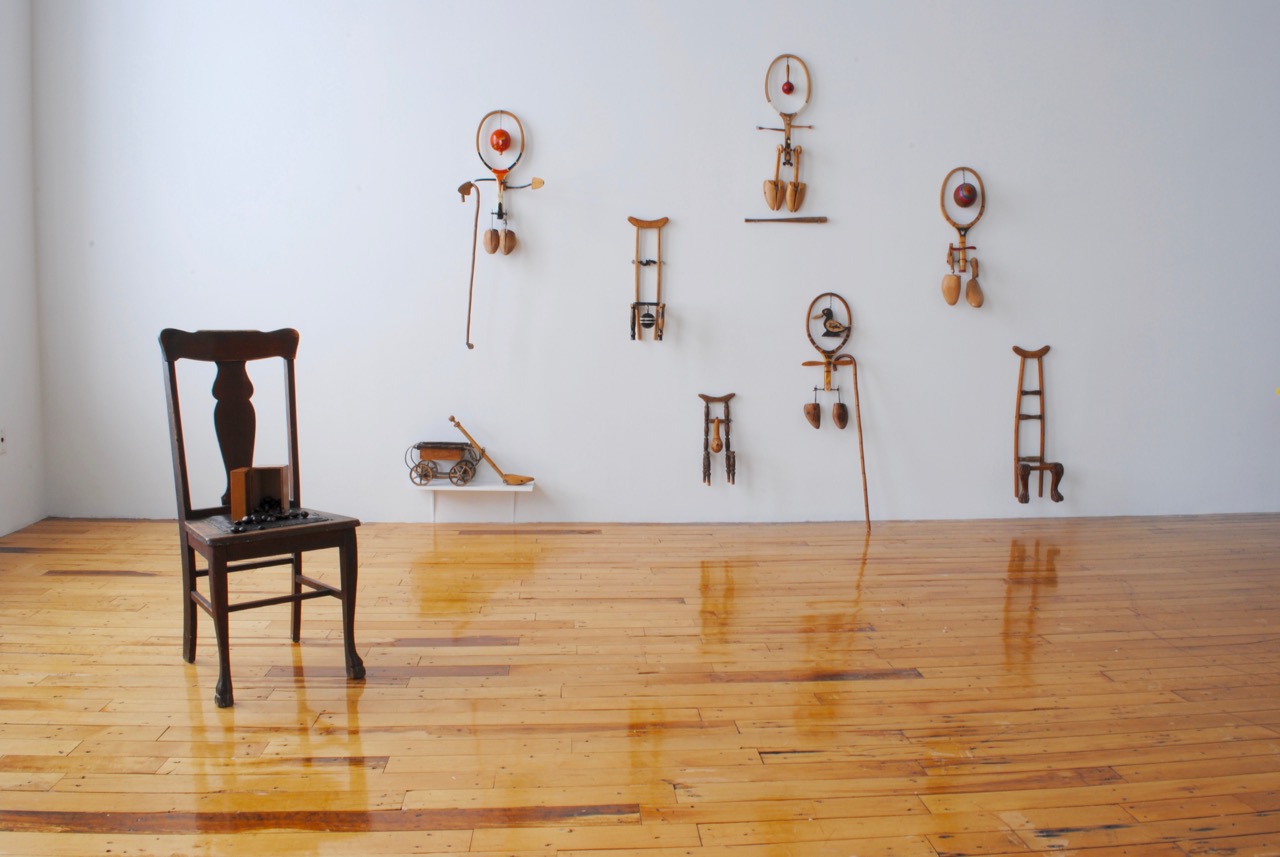 March 21 - May 5
South Arts 2019 Southern prize and state fellows
The South Arts Southern Prize and State Fellowships celebrate and support the highest quality art being created in the American South. This exhibition was the first time South Arts will bring together work from the nine State Fellowship recipients, one from each state within the South Arts region. An independent jury panel selected the nine state fellows from more than 800 applicants based solely on artistic excellence.
The 2019 State Fellowship award recipients are: Jamey Grimes (Alabama), Amy Gross (Florida), Bo Bartlett (Georgia), Lori Larusso (Kentucky), Stephanie Patton (Louisiana), Rory Doyle (Mississippi), Andrew Hayes (North Carolina), Virginia Scotchie (South Carolina) and Andrew Scott Ross (Tennessee).
May 23 - July 7
KendallProjects: Head Trauma: From the outer rim
In this exhibition, kendallprojects, the name under which Jason Kendall presents his art, incorporates drawing, painting, sculpture and performance. The exhibition addresses American Football culture by exploring themes of identity construction, masculinity, violence in sports and conditional self-worth based on physical performance. The artist is not only a spectator but also a critical analyst, distancing himself from the self-destructive nature exhibited by many athletes.
kendallprojects explores the artist's personal experience. From 1994-1998, he played football at the University of South Carolina and North Greenville College. He quit to escape the negative physical and psychological aspects of the sport and to pursue a career as an artist.
April 4
Columbia Open Studios Preview Party
The Columbia Open Studios Preview Party kicked off the annual Columbia Open Studios tour at the official ticketed Preview Party. The party was held in the second floor Olympia Room at 701 Whaley. A meet + mingle took place with participating artists at the preview party before the Open Studios weekend. Complimentary hors-d'oeuvres + a cash bar were available for attendees.
April 6 & 7
Columbia Open Studios
701 CCA Columbia Open Studios is an annual, self-led, driving tour of artists' working studios spans the City of Columbia and Richland and Lexington Counties, showcasing the Midlands' talented visual art community.
April 11
701 CCA presents: the usc experimental music workshop
The University of South Carolina Experimental Music Workshop student ensemble, directed by U.S.C. music school faculty member Greg Stuart, performed at 701 Center for Contemporary Art in Columbia, S.C., on Thursday, April 11, at 7:30 p.m. The ensemble was joined by composer and violinist Erik Carlson. Admission was free.
The Experimental Music Workshop will perform the world premiere of Carlson's expansive "10,000,000 Vibrations" (2019) for violin and ensemble and Stuart's "aerosol aperture" (2019) for violin, percussion, ensemble, and electronics. Also on the program are performances of music by Kunsu Shim, Eva-Maria Houben as well as Mary Jane Leach's "Dowland's Tears" (2011), performed by Jennifer Parker-Harley and the USC Flute Studio.
The Experimental Music Workshop is a collective of musicians at the University of South Carolina drawn from the South Carolina Honors College, School of Music, the Columbia music and arts community, and beyond. Founded in 2009 by percussionist and USC School of Music professor Greg Stuart, the Experimental Music Workshop presents concerts of experimental music throughout Columbia and the Southeast and has collaborated with an array of prominent musicians and composers. The group's performances have been praised as "patient, unpredictable, [and] exceedingly beautiful" (The New York Times). The Experimental Music Workshop released their debut recording on Edition Wandelweiser Records in the Winter of 2017 performing the music of Jürg Frey.
Stuart is a percussionist whose work draws on a mixture of music from the experimental tradition, Wandelweiser, improvisation and electronics. His performances have been described by the New York Times as "a ghostly, gorgeous lesson in how close, concentrated listening can alter and enhance perception."
April 30
Jazz @ 701 with Gino Castillo and the cuban cowboys
ColaJazz Crawl: International Jazz Day kicked off at 701 Whaley with Gino Castillo and The Cuban Cowboys! Castillo hails from Cuba and is an Afro-Cuban jazz percussionist, singer, leader and currently artist in residence at Prohibition - Charleston. ColaJazz and 701 Center for Contemporary Art partnered to bring you this energizing music, that brought spirits high and feet out on the dance floor!
Joining Gino are two musicians from Cuba, Julito Padron on trumpet and Oliver Valdez on drums, as well as, Abdiel Iriarte on piano, bassist Jake Holwegner, trombonist Brad Jepson and trumpeter Mark Rapp! Stoney Creek Cigars/South were there with crafted hand-rolled cigars.
may 21
Jazz @ 701 with quiana parler and friends
Quiana is the lead singer for internationally and critically acclaimed, Grammy nominated, Charleston-based music group, "Ranky Tanky." She rose to prominence after her success on the 2003 season of American Idol. "Quiana's voice is in a league of its own. With her range, power and control of subtle ornamentation, she could bring down the house all by herself. Her voice is the primary instrument." - NPR Music Review 2018
701 CCA PRESENTS
PANEL DISCUSSION: FOOTBALL, HEAD TRAUMA & ART
Wednesday, June 26, 6 p.m.
701 CCA Gallery
Panel Admission: Free
Facebook Event

Exhibition Period: May 23 - July 7, 2019

In conjunction with the exhibition HEAD TRAUMA: From the Outer Rim by kendallprojects, 701 Center for Contemporary Art in Columbia, S.C., presents a panel discussion, on Wednesday, June 26, 6 p.m. The panel will be moderated by Chris White, film producer, director, screenwriter and actor.

In this exhibition, Jason Kendall, also known as kendallprojects, addresses American Football culture by exploring themes of identity construction, masculinity, violence in sports and conditional self-worth based on physical performance.

The panel will focus on the dangers of head trauma in American Football, the self-destructive nature exhibited by many athletes, as well as arts ability to raise awareness of the issue. How has American football culture addressed the risk of brain injury and the physical toll of the sport on the brains and minds of athletes?
The panel will feature five prominent figures in the arts, sports, medical and scholarly communities of Columbia, SC, namely Jason Kendall, Garrison Gist, Dr. Ashley Bryant Harbin, Dr. Davis Moore, and Katie Zenger, moderated by Chris White.
february 2
CHINESE PAINTING AND TAI CHI INFORM CONTEMPORARY EXPRESSION: A MARK-MAKING WORKSHOP WITH YISHA WANG & YUEZHONG WANG
Known as 国画guó huà or native painting, traditional Chinese painting is considered one of the oldest continuous artistic traditions in the world. It uses "水墨Shui Mo" (water and ink), which is a freestyle technique created using a brush dipped in ink and water, and on to rice paper. This art form allows one to express their creativity, calm their mind and appreciate the beauty of art and nature.
The essential principles of Tai Chi are based on the ancient Chinese philosophy of Taoism, which stresses the natural balance in all things and the need for living in spiritual and physical accord with the patterns of nature. According to this philosophy, everything is composed of two opposite, but entirely complementary, elements of yin and yang, working in a relationship which is in perpetual balance. Tai Chi consists of exercises equally balanced between yin and yang.
This workshop employed both of these disciplines to explore the interplay of movement and mark-making. An equal amount of time was spent practicing the traditional Tai Chi form and its brushwork counterpoint. Participants were led through a process of physical movement and traditional Chinese painting techniques to ultimately create works of art on paper using mark-making techniques.
All participants received two Chinese Wolf Hair Calligraphy Brush Pens, Chinese Calligraphy Ink, Sumi Ink Calligraphy Rice Paper and Handmade Xuan Paper to use and take home after the workshop!
April 8
ARTISTA VISTA LANTERN WORKSHOP
Participants had the chance to create a unique lantern to carry in the Light and Lantern Parade at Artista Vista Art Night on Thursday, April 18, 8pm. Talented artists were on hand to help with the creation.
April 27 - 28
WOODWORKING FUNDAMENTALS: A BEGINNER FURNITURE BUILDING WORKSHOP WITH GREG ALEXANDER
In this workshop, woodworker Greg Alexander guided participants in constructing a staked stool from Christopher Schwartz's popular Anarchist's Design Book. Alexander introduced students to using the hand plane, one of the most fundamental tools in hand tool woodworking, to build their own staked stool to take home. Techniques taught in this workshop include drilling, reaming holes at compound angles and wood finish application. Over two days, the class prepared the legs and seats using hand planes, assembled and back wedged the chairs and then applied a milk paint and oil finish. This workshop was perfect for beginners interested in learning the ins-and-outs of hand tool woodworking, as well as those with some experience interested in exploring the world of chair making.
February 4 - March 17
David Cianni & Anna Redwine
For the purpose of adding to the cultural and economic vibrancy of Columbia's historic Mill District, which includes the neighborhoods of Olympia, Granby and Whaley, along with making available public artwork to a neighborhood that is currently underserved, 701 Center for Contemporary Art is developing a public art trail that would run through the historic Mill District. The historic 701 Whaley building, which is in the Mill District and the location of 701 CCA, has been designated as an artwork location to be included on the trail.
To accomplish this project, 701 CCA has selected artists Anna Redwine and David Cianni, that collaborated in a 6-week long residency, where they designed and created this public sculpture. This work referenced the local Mill District's history as a traditional working-class mill village and ultimately will be included as a location on the Mill District Public Art Trail.
May 14 - June 21
Jena Thomas
Jena Thomas from Spartanburg, SC, was the 701 CCA Prize 2018 Winner. As the winner, Thomas received a six-week, paid residency at 701 CCA; a solo exhibition at 701 CCA; and an ad in a national art magazine. The finalists and winner were selected by an independent jury consisting of Osamu Kobayashi, Brooklyn, N.Y., painter and Columbia, S.C., native; Jessica Moss, curator, artist, writer and founder of The Roll Up CLT in Charlotte, N.C.; and Catherine Walworth, curator of the Columbia Museum of Art in Columbia, S.C.
Thomas also was a finalist for the 701 CCA Prize 2016. She received her MFA from the University of Miami in Florida and in 2016 joined the art faculty of Converse College in Spartanburg, S.C. Thomas has exhibited extensively in the past decade in Florida and New England. Among her recent solo and two-person exhibitions are those at Fernando Luis Alvarez Gallery in Stamford, Con.; Contemporary Art Space in Ft. Lauderdale, Fla.; and Green Monkey in Miami. Thomas has been represented at Art Hamptons, Art Palm Beach and the Miami International Art Fair. She has exhibited at the Boca Raton Museum of Art, the Coral Gables Museum, and the South Florida Cultural Center, all in Florida. Her work was selected for New American Painting's 2014 MFA Edition.